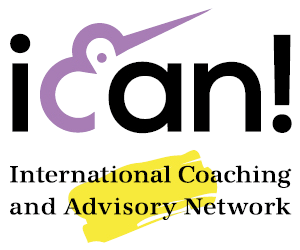 When the only certainty is uncertainty and change is the new routine you need top performing and thriving teams.

LEAD YOUR TRANSFORMATION, CROSS BORDERS.
ICAN! International Coaching and Advisory Network.
If you believe that the experience of top international management gives a unique added value to the power of coaching, choose us. find out more
ICAN!
A new approach to competitiveness
I-CAN! promotes a new understanding of competition:
-be the best you can
-build your value proposition in a unique way
-be an ally to other players
to build a bigger market, to open new markets and to set new rules.

Be your own first ally by activating cooperation within Teams, Business Units, Countries to achieve the top performance at the lowest costs and time investment.

No more waste of energy, time, resources.

No more negative emotions that block or delay the business:
just effectiveness and well-being.
ICAN!
A unique synergic system
We accompany you in your transformation process to generate top performance and well-being leveraging unique synergic systems of skills, tools and canvas of coaching, management, strategy, creativity, communication, digital, emotional intelligence, artificial intelligence, neuroscience.

1: A well-rounded perspective: with the view, the down-to-earth experience and the vision of the manager and the coach, through:
• the definition and optimization of the strategy, all the way to the deployment with action plans
• the implementation to the markets, in a dedicated way, thanks to the Advisory, bringing unique knowledge and skills to more effectively support the leader to guide the organization
2: A unique combination of Emotional Intelligence, Artificial Intelligence, Brain Styles & Talents:
• to give way to augmented intelligence and augmented contributions coming from human unique skills
• to predict success
• to develop an effective behavioral training and talents' growth taking the move from understanding how the brain works
• harness strategies of Brain Style to activate team and organizational synergies
3) TOP PERFORMING ORGANIZATIONS
When change comes around, demanding a new direction, you need to check the Vital Signs of your Organization to be able to put in place the actions needed to steer the wheel.

The Company success in VUCA times depends on:

• The vision and performance of leaders
- We get you, as a leader, to map your impact and design a plan to drive transformation effectively

• The shared focus and the synergies of teams
- We get your teams to share a direction, to be cohesive and tenacious and fully reactive

• The readiness to change of the organization
- We get you to move from reaction to action; to integrate tactics into strategy
- We build with you the trust of your organization that they can change
ICAN!
For International Companies with Italy among the key Countries
ICAN! services are primarily for:
• Italian companies with representative offices abroad
• Companies with Headquarter abroad and representative offices in Italy

These target Companies are a precise choice, led by the desire to convey and express the potential that is often dispersed between one branch and another; between one function and another a common problem to any business, but emphasized by the geographical distance.

A sense of yearning for us, born from our long managerial experience in multinational companies, with Italy as the cradle.
ICAN!
The noble goal
Our aim is to transform the way companies operate in line with the United Nations 2030 GOAL 8 - decent work and economic growth:

• People need meaning and have emerging higher needs
• Companies must change the rules of management in a post-Covid Era, by creating the conditions that allow people to thrive, both in terms of performance and wellbeing
• Towards more autonomy, transparency, collaboration and flexibility, with a particular attention to engagement and sustainability

To make an impact and adopt more sustainable and farsighted paths, I-CAN! promotes inclusive, responsible and sustainable economic growth, to drive both progress and productive employment.

To create value in your organization and influence across bounderies taking the courage to step out from old model and foster collaboration.
International vision: we have grown our professional experience both in National and International contexts, within foremost Companies. All the can be managed indifferently in English, Italian or French.

Management: we have a long and proven experience as managers: handling teams, budgets, internal and external relations. We know from the inside dynamics and languages of numerous markets: fashion, pharma, fast moving consumer goods, advertising, publishing, finance, banking.

Coaching: We are ICF - International Coaching Federation – coaches, the world's largest organization of professionally trained coaches, that sets the highest standards for the industry globally in terms of competencies and ethics.

Communication: we have dealt with the global campaigns of major brands in Publicis Groupe, one of the largest marketing and communications companies in the world. We are bloggers and research based consultants who have helped national and international players to optimize the effectiveness of their communication campaigns, together wit initiatives of advocacy and ambassadroship.

Team and Individual focus: we have accompanied from foundation to excellence several high performing teams, getting them to share a common vision, goals, metrics, with the members at the same time cooperating and challenging each other, holding each other accountable to achieve outstanding results and disseminating trust.

Digital: we have lead digital agencies and have published reference books on The Network.

Research: Our pioneering research feeds into everything we do. From understanding what makes modern leaders successful, we design tailored programs that are laser-focused on your specific needs and deliver sustainable organizational impact. Our research uncovers the trends and insights that really matter and allows us to measure ROI, in synergy with the most evolved Artificial Intelligence and Neural Networks effectiveness measurements.